Fiberglass Infinity from Marvin Windows
Our windows are made of Marvin's Proprietary Ultrex Fiberglass — It's 8x stronger than vinyl, 3.5x stronger than wood/vinyl composites (Fibrex), and one square inch can support 34,000 pounds!

Marvin Fiberglass replacement windows have a 38% longer useful life expectancy than vinyl – that means that for all practical purposes, you'll probably never have to replace your windows again…ever. That alone will save you 10's of thousands of dollars.
Patented Ultrex Fiberglass material has extremely low expansion and contraction rates which provides easy operation for the life of the window and weatherstrip seals that are going to last for the life of your home. True energy efficiency is measured over the life of the window and not when a window is "fresh out of the box." Your windows have to be just as energy efficient as the day you installed them whether it has been 10, 20, or even 30 years.
As strong as low carbon steel – this strength keeps windows square, level, plumb and true. That means no warping, cracking, or premature failure of the frame. It's a fact… Wisconsin weather is brutal on windows. The constant hot and cold causes contraction and expansion that destroys lesser frames by causing cracks… usually in the corners at the joints. Ultrex is so strong…it's guaranteed, for life.
Virtually maintenance-free – you won't spend money needlessly trying to upkeep and maintain our windows.
Manufactured with the base material of silica sand — an abundant natural resource and NON-TOXIC… unlike vinyl that needs massive amounts of petroleum and other harmful chemicals. If you're concerned about your carbon footprint, Infinity from Marvin Replacement Windows are the way to go.
Made with intricate profiles that replicate the look of traditional wood windows – in short, our windows are absolutely stunning. You can get the beauty of wood without all the maintenance.
Narrow profiles — because of its exceptional strength, Infinity window frames are smaller allowing for more visible glass area and expanded views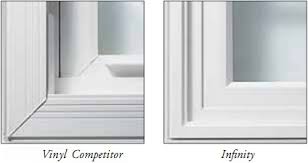 Long-term stability — reduces the risk of seal failures and air leakage through the windows.
Patented, mechanically bonded inline acrylic finish — is up to 3x thicker than competitive finishes, providing superior resistance to discoloring, scratching, and denting. First and only window frame on AAMA's (American Architectural Manufacturer's Association) verified components list complying to 624-10 & 625-10. This means Ultrex was tested with acid, baked in an oven, and exposed to extremely cold temperatures and did not have any corrosion, blistering, or peeling. Ultrex performed in cold temperatures of -40 to hot temperatures up to 350 degrees with no expansion or contraction. Ultrex emits no VOC's (Volatile Organic Compounds).
ABOUT US
Wrightway is the Marvin Infinity Windows dealer in the Oshkosh, Fond du Lac, and Appleton, WI territories. We have an expansive service area and we are experts in replacing siding, windows, and gutters and installing gutter guards. Replace your windows today and free up some of your time for more important things. Find out more at www.WrightwayBuilt.com.