The average home has 130 splices. ABC Seamless steel siding eliminates the UGLY splices. And we bring the factory right to your house where we cut every piece of siding to the exact length to fit your house perfectly. No ugly splices, dirt mold mildew or moisture behind your new siding. Never scrape or paint again!
Some homeowners say the way seamless siding is installed on a house is magical. You can see it happen right before your eyes. Each piece of seamless siding is custom fit to the exact measurements of the home. The ABC Seamless siding machine forms every panel on the job site in the color and style you choose.
Be sure to check out more detailed descriptions of our offering at ABCSeamless.com.
Siding
ABC Seamless comes in many styles and colors. From our most popular Double 5″ profile to the simulated log cabin siding, we truly offer it all.
Some of the profiles we offer:
2″ Lap
3″ Lap/Colonial
4″ Lap/Colonial
5″ Lap/Colonial
8″ Lap/Colonial
Vertical
Log Siding
Soffit & Fascia
The best way to complete a siding project is to include updating the trim and soffit and fascia on a home. Our soffit and fascia is custom-crafted steel made perfectly to fit on your home.
Here are some of the profiles we offer:
Vented Soffit
Unvented Soffit
6″ Fascia
8″ Fascia
Gutters
ABC Seamless steel products allows us to custom fabricate on-site at your home any of our siding, soffit, fascia, or gutter products. We offer the ABC Seamless steel gutter products with the same quality coated steel products we've come to enjoy.
Colors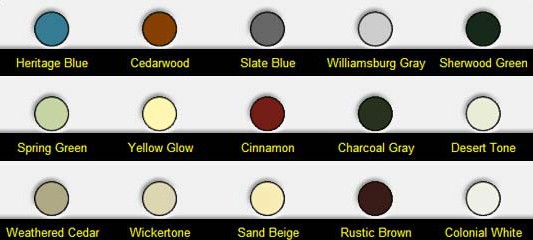 ABC SEAMLESS COLOR SELECTION TOOL