ENJOY BACKYARD BEAUTY WITH A TEMO PERGOLA
Build It Once – Won't Peel, Crack, Rust, or Rot
We are proud to offer durable pergolas for Wisconsin homeowners from TEMO Pergolas. Crafted from heavy-duty extruded aluminum, a TEMO pergola will stand strong for decades, holding up to whatever nature throws its way. Our unique curved lattice roof offers better protection from the sun than other, similar products. They also come with gorgeous columns, inspired by the rich architectural history of Italy, available in Roma, Florentine, and Venetian designs.

Free standing
With this option, you can install the pergola wherever you'd like around your property, like the entranceway of your home or over a pool deck.

Garden arbor
This pergola provides exquisite beauty over your garden or other landscaping. It even features an open-beam design, which is ideal for climbing vines.

Attached
Fastened directly to the exterior of homes, these pergolas provide partial shade over patios and decks.
We also offer innovative operable pergolas, which feature a roof that can open or close. So, on beautiful days when you want to relax outside and enjoy some sunshine, you can use a slow-motion motor to open the rafters and allow the sunlight to filter through. Then, when your time outside comes to an end or if the sunshine becomes too intense, you can simply close the rafters and the pergola turns into a solid-roof patio cover – just like that.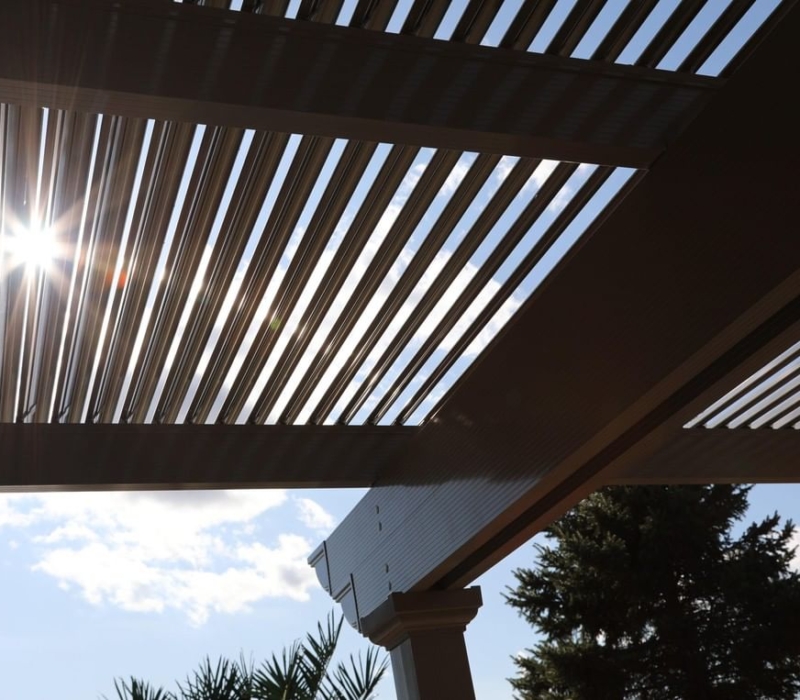 Features
IT'S MORE THAN JUST A SHADE
Heavy-duty fully extruded aluminum for superior strength
Unique curved lattice that provides more partial shade
Exclusive snap-fit construction for fast installation
Electrostatic finish that provides a virtually maintenance-free long life
Peel and crack resistant extruded aluminum that won't warp or rot
Tested ability to withstand high snow and wind loads
Color choices: White and Sandstone
Column choices: Roma, Venetian, Florentine