Seamless Gutters and Downspouts
Seamless Aluminum Gutters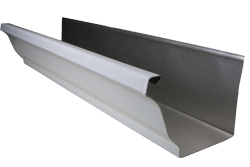 Our seamless gutter systems are made right at your house to fit your roofline as perfectly as possible. With a Kynar paint finish, the aluminum gutters are sure to last longer to help you from having to continually paint gutters.
Aluminum Gutters come in:
ABC Seamless Steel Gutters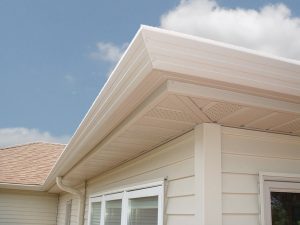 ABC Seamless Steel gutters offer a combination of strength and durability in a color scheme
and finish to match our ABC Seamless Siding and Soffit & Fascia products. The distinct look these gutters have will give an immediate high-value appeal to passers-by.
Available in more than 30 colors, you're sure to find a color suiting your needs. In addition to color and sizing options, we use heavy-gauge gutter hangers to keep the gutters in place. Too many times, companies cut corners on hangers and over time the weight of ice and snow can bring a gutter down with ease.
Gutter Helmet Protection System
Gutter Helmet is a gutter protection system that we offer exclusively in the Fox River Valley, East Central Wisconsin, Madison and Milwaukee markets. The system is time-tested to keep your gutters free of unwanted debris. We have a solutions for almost every application to keep your gutters clear and save you from the bi-annual stress of cleaning out your gutters.
For more information, check out our Gutter Helmet page.