Long-term siding solutions for your home
Seamless Steel Siding has a lot of advantages that we've covered extensively throughout our website, but once you've decided that steel siding is the right solution for your home, you need to sift through design options. Luckily, we have a couple of tools to help you with this process.
Our website provides examples of different types of siding options available from ABC Seamless. A siding profile is the size of the exposed siding – think of narrow siding – 3″ or wide siding- 8″. We have samples of these different options, but ABC Seamless has a fully built-out line of profiles to match any home decor. Here are the different profiles we offer including the newly released Shake option.
2″ Lap
3″ Lap/Colonial
4″ Lap/Colonial
5″ Lap/Colonial
8″ Lap/Colonial
Vertical Board and Batten
Log Siding
Shake
Recently, great strides have been made in shake siding that enable it to be installed as an accent, most commonly in gable ends on the front of a home. Take a look at the photo above. This is a project that included steel shake siding which adds a dramatic accent to the gable and porch that will last a lifetime with no maintenance!
Siding Color Design Tool
A great tool that we have on our website is the ABC Seamless Color Tool. You can explore different color or siding profile options in live photos. Take a house that is similar to yours and play around with different colors or siding profiles. You can even show what vertical or shake siding would look like in a huge assortment of colors. Use the save option to keep a favorite color mix so you can share it with us when we meet.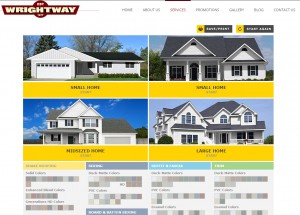 If you still aren't sure about choosing between steel and some other color options, here's a chart that can help to clarify why we choose to work with ABC Seamless steel siding. The ratings are based on a 1-5 scale with 5 being the best. It's a pretty clear choice that seamless steel is the superior exterior cladding option for our climate!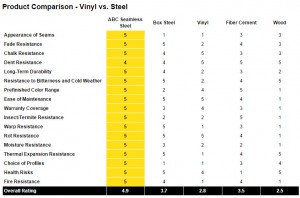 For more information about seamless siding and gutters or our other products, visit us online at www.WrightwayBuilt.com today! We proudly serve homeowners in Fond du Lac, Oshkosh, Appleton, the Fox Valley, and everywhere in between.
ABOUT US
Wrightway Home Improvements is the best siding installer in the Fond du Lac, Oshkosh, and Appleton areas. We have an expansive service area and we are experts in replacing siding, windows, and gutters and installing Gutter Helmet. If you think your siding might need a update, we can help you each step of the way and free up some of your time and mind space for more important things. Find out more about our ABC Seamless Siding options at www.WrightwayBuilt.com.