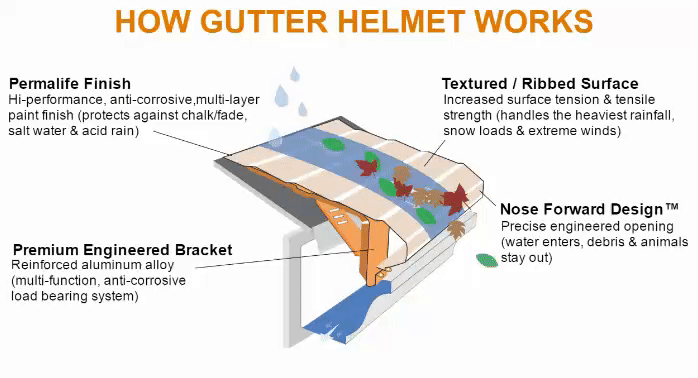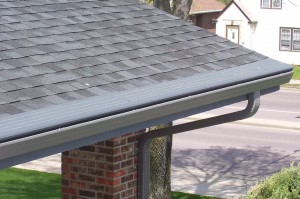 Gutter Helmet uses a unique, patented technology to create a protective shelter over a gutter  system. Water-tension allows water to run on the face of the product to simply deposit in the gutter. Herbaceous debris is shed off the face to the ground, bypassing the gutter system.
We have installed more than 100,000 ft of this product in Fond du Lac, Madison, and Milwaukee and we are looking forward to helping people stay safe by avoiding climbing ladders to clean out their gutters.
Gutter Helmet is offered in 16 colors to complement any gutter or roofing system color.

FILTER OUT TWIGS AND LEAVES
While Gutter Helmet is busy capturing every drop of rain that falls on your roof, it is also rejecting every leaf, twig and bits of debris that come along with the rain. As rain flows around the rounded edge and into the gutter through the small slit, leaves and debris cannot pass through the narrow opening and they continue their downward direction and drop to the ground. (Some gutter protection systems allow leaves and other debris to get into your gutters—so you are still stuck with the problem of cleaning your gutters.) Only Gutter Helmet's patented design is so remarkably successful at keeping gutters clean, day after day, and year after year. No wonder more American homes are protected by Gutter Helmet than any other system.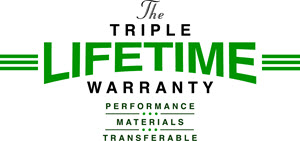 PERMALIFE HIGH PERFORMANCE COATING
Gutter Helmet not only saves you time and worry—it also adds beauty to your home. Constructed of durable but lightweight aluminum, Gutter Helmet is protected by a patented PermaLife finish, which is available in a number of gutter colors to blend with your home. The textured PermaLife finish is not only beautiful, but it provides ultimate protection from acid rain and other harmful elements in the air. This assures you that Gutter Helmet's original beauty will never become discolored or stained over the years.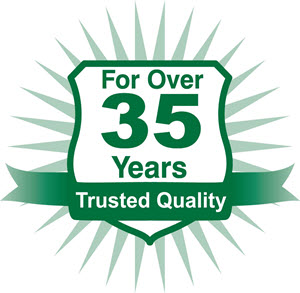 INSTALLED WITH CARE BY PROFESSIONALS
Gutter Helmet is installed over your existing gutters by trained professional craftsmen. Before installation, if your existing gutters need cleaning and minor repairs, your Gutter Helmet installer will provide them at no extra charge. All care is taken to protect your landscaping and grounds during the installation of your gutter system. And if your roof is under warranty, it will not be affected by Gutter Helmet installation. Gutter Helmet's methods have been evaluated and approved by major roofing manufacturers.
COLORS
Gutter Helmet® is available in eight colors plus solid copper. Visit our Fond du Lac Showroom to see our working display model as well as color samples.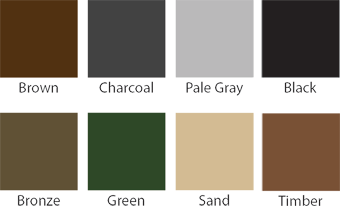 HISTORICAL PERFOMANCE
Awarded seven design patents
Over 35 Years—the original gutter protection system
Backed by Gibraltar Industries, a publicly held, billion dollar company
Lifetime warranty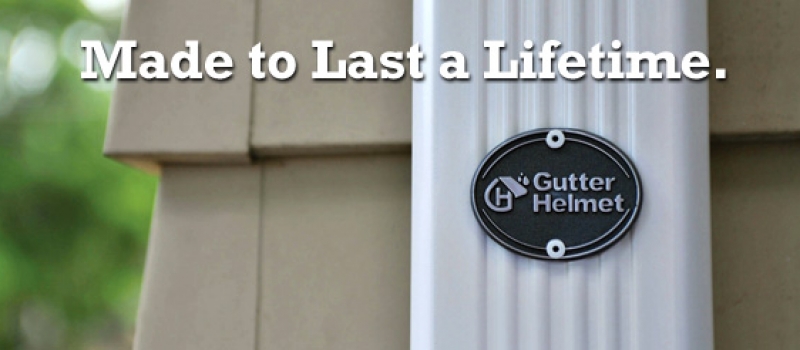 For information on our Seamless Aluminum Gutters or ABC Seamless Steel Gutter systems, check out our Gutters page. We offer a many combination of 5″ and 6″ gutters with 2″x3″ or 3″x4″ downspout configurations. Give us a call today to evaluate your roof drainage system and recommend how you might best solve any issues your currently having.